BUTT THORNTON & BAEHR PARTICIPATES IN ANNUAL CASA ESPERANZA GALA FOR HOPE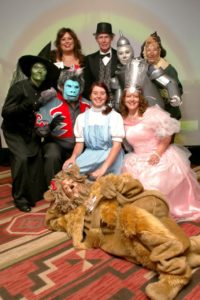 On March 28, 2015 Butt Thornton & Baehr participated in the annual Casa Esperanza Gala for Hope. This years theme was "There's No Place Like Home." The event featured Frances Sandoval as the Tin Woodman, Eula Landsford as the Scarecrow, Laurie Loving as the Cowardly Lion, Kaleigh Garduno as Dorothy, Gale Johnson as Glenda the Good Witch, and Alfred Green as the Wizard of Oz.
Casa Esperanza provides a home away from home for families facing cancer and other serious medical needs. Casa Esperanza is a nonprofit organization that has provided a compassionate residence for over 35,000 New Mexico patients and caregivers over the past twenty-three years. All proceeds from this event went to benefit Casa Esperanza Endowment Foundation.