The latest happenings at Butt Thornton & Baehr PC
JANE A. LAFLIN AND SHAWN CUMMINGS PRESENTERS AT NATIONAL BUSINESS INSTITUTE SEMINAR
On December 18, 2014 Jane A. Laflin and Shawn Cummings presented at the National Business Institute (NBI) Continued Legal Education (CLE) seminar regarding Advanced Issues in Personal Injury Litigation.
Ms. Laflin's presentation included a Legislative and Case Law Update regarding federal and state rules and procedures, insurance law, case law, trends in personal injury, and advanced case assessment.
Mr. Cumming's presentation focused on Advanced Coverage Analysis. Mr. Cummings discussed the collateral source rule, advanced policy and coverage analysis for UM/UIM and premises liability cases, stacking, and offsets.
MICHAEL CLEMENS, EMILY FRANKE, AND JAMES JOHANSEN SELECTED AS 2016 BEST LAWYERS
Congratulations to Michael Clemens, Emily Franke, and James Johansen who were listed in the 2016 Best Lawyers for their expertise in insurance law. Best Lawyers is an annual publication meant to recognize leading lawyers for their professional abilities. These lawyers are nominated and voted on by their colleagues within the same geographical area and legal practice.
THE NEW MEXICO DEFENSE LAWYERS ASSOCIATION HONORS PAST PRESIDENTS INCLUDING JAMES H. JOHANSEN AND S. CAROLYN RAMOS
On September 25, 2015 the New Mexico Defense Lawyers Association ("NMDLA") celebrated the 30th anniversary of its founding by honoring the Association's past presidents who have successfully lead the organization in its service to New Mexico civil defense lawyers. Among the esteemed honorees, the NMDLA recognized James H. Johansen, NMDLA President 1995, and S. Carolyn Ramos, NMDLA President 2009. Ms. Ramos continues her service as a member of the NMDLA's Board of the Directors.
CONGRATULATIONS TO MARIA S. DUDLEY WHO PASSED THE NEW MEXICO BAR EXAM!
Congratulations to Maria S. Dudley who passed the New Mexico Bar Exam on September 10, 2015! Ms. Dudley clerked for Butt Thornton and Baehr in the summer of 2014 and will join the firm as an associate at the end of September.
BUTT THORNTON & BAEHR PC WELCOMES NEW ASSOCIATE AMY E. HEADRICK
Ms. Headrick graduated from The University of Michigan in Ann Arbor in 1991 where she received her Bachelor of Arts in Political Science. After graduation, she spent two years in Japan, where she studied Japanese language, history, and culture while working for Biwako-Kisen. In 1998 she graduated magna cum laude from Tulane University School of Law receiving the distinction of Order of the Coif and the Lemle Kelleher award for the top graduate in the Admiralty Program. While at Tulane Ms. Headrick served on the Maritime Law Journal and was on the Appellate Law Clinic.
Ms. Headrick practiced at an insurance defense firm and practiced special education law at a non-profit organization in Alaska, before relocating to New Mexico. She worked as an attorney editor for West Publishing for many years, before becoming licensed in New Mexico in 2014. She is admitted to practice law in New Mexico state courts, the New Mexico Federal District Court, and the Tenth Circuit Court of Appeals.
MONICA R. GARCIA ELECTED PRESIDENT OF THE NEW MEXICO FEDERAL BAR ASSOCIATION
Congratulations to Monica Garcia who was elected President of the New Mexico Chapter of the Federal Bar Association. The Federal Bar Association is the premier bar association serving the federal practitioner and judiciary. The mission of the Association is to strengthen the federal legal system and administration of justice by serving the interests and the needs of the federal practitioner, both public and private, the federal judiciary and the public they serve.
BUTT THORNTON AND BAEHR PARTICIPATES IN SECOND JUDICIAL DISTRICT PRO BONO CLINIC
On June 3, 2015 Butt Thornton and Baehr participated in the Second Judicial District Pro Bono Clinic. The Clinic is held on the first Wednesday of every month at the Second Judicial District Courthouse. Thanks to the assistance of nine attorneys and one paralegal from Butt Thornton and Baehr, more than twenty individuals received assistance at the June Clinic.
Special thanks to Felicia Boyd, Shawn Cummings, Sherill Filter, Emily Franke, Jane Laflin, Carolyn Ramos, Ryan Sanders, Rodney Schlagel, Lisa Schmidt, and Laura Vega for volunteering their time and expertise for this important event.
W. ANN MAGGIORE PRESENTER FOR NEW MEXICO RADIOLOGY ASSOCIATES
On April 11, 2015 W. Ann Maggiore presented case studies to twenty-five radiologists from Radiology Associates of Albuquerque at the request of The Doctors Company as part of a retreat program.
CONGRATULATIONS TO THE 2015 BUTT THORNTON & BAEHR SUPER LAWYERS
Congratulations to the Butt Thornton & Baehr 2015 Southwest Super Lawyers!
Each year Super Lawyers recognizes attorneys who have distinguished themselves in their legal practice. The selection includes third-party validation of the lawyers' professional accomplishments.
Butt Thornton and Baehr 2015 Southwest Super Lawyers include:
Monica Garcia
Alfred L. Green, Jr.
James H. Johansen
W. Ann Maggiore
Carlos G. Martinez
Agnes Fuentevilla Padilla
S. Carolyn Ramos
Butt Thornton and Baehr 2015 Southwest Rising Stars include:
Paul Bishop
Felicia Boyd
Neysa Lujan
Scott Owen
Ryan Sanders
Raul Sedillo
BUTT THORNTON & BAEHR PARTICIPATES IN ANNUAL CASA ESPERANZA GALA FOR HOPE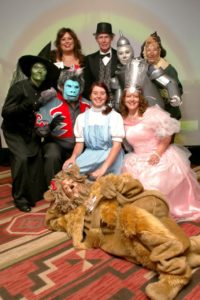 On March 28, 2015 Butt Thornton & Baehr participated in the annual Casa Esperanza Gala for Hope. This years theme was "There's No Place Like Home." The event featured Frances Sandoval as the Tin Woodman, Eula Landsford as the Scarecrow, Laurie Loving as the Cowardly Lion, Kaleigh Garduno as Dorothy, Gale Johnson as Glenda the Good Witch, and Alfred Green as the Wizard of Oz.
Casa Esperanza provides a home away from home for families facing cancer and other serious medical needs. Casa Esperanza is a nonprofit organization that has provided a compassionate residence for over 35,000 New Mexico patients and caregivers over the past twenty-three years. All proceeds from this event went to benefit Casa Esperanza Endowment Foundation.
S. CAROLYN RAMOS PRESENTER AT ALFA TRANSPORTATION PRACTICE GROUP SEMINAR
S. Carolyn Ramos will be a featured speaker at the ALFA Transportation Practice Group Seminar this May. Carolyn has served as the liaison between ALFA's Women's Initiative Practice Group and Transportation Practice Group. Carolyn will be discussing the use and admissibility of "day-in-the life" videos at mediation and trial in catastrophic litigation. She is also the Editor-In-Chief of the 2015 ALFA Transportation Compendium.
W. ANN MAGGIORE ATTENDED EMS/MD COURSE AS PART OF THE FACULTY OF THE NATIONAL ASSOCIATION OF EMS PHYSICIANS
On January 21, 2015 W. Ann Maggiore attended an EMS/MD course for emergency physicians and paramedics as part of the faculty of the National Association of EMS Physicians.
FELICIA C. BOYD NAMED SHAREHOLDER OF BUTT THORNTON & BAEHR PC
Congratulations to Felicia C. Boyd who was named a shareholder of Butt Thornton & Baehr PC in 2015!
Ms. Boyd joined Butt Thornton and Baehr PC in August 2008. She is an alumnus of the University of New Mexico and graduated from the UNM School of Law in 2005. She is admitted to practice in the New Mexico state and federal courts. Ms. Boyd has represented clients in the areas of commercial litigation, complex civil litigation, health law, premises liability, personal injury, employment law, commercial transactions, and retail litigation. Ms. Boyd and her husband, Dustin, live in Albuquerque with their two children.
W. ANN MAGGIORE PARTICIPATED ON A RISK MANAGEMENT DEFENSE COUNSEL SEMINAR PANEL AND PRESENTED TWO COURSES ON LEGAL ISSUES IN EMERGENCY MEDICINE
On November 12, 2014 W. Ann Maggiore taught a session entitled, "Anatomy of a Lawsuit" to the emergency medicine residents at the University of New Mexico.
Further, on November 21, 2014 Ms. Maggiore participated on a panel at a Risk Management Defense Counsel Seminar including approximately one-hundred attendees.
Lastly, on November 22, 2014 Ms. Maggiore gave a presentation regarding Consent and Refusal to fifteen Emergency Medical Technicians (EMTs) from American Medical Response (AMR) and Valencia County.
BUTT THORNTON & BAEHR HONORS OUR VETERANS
In honor of Veteran's Day, Bobbie J. Collins, created the first annual BTB Veteran's Wall.  All were asked to contribute photos of their favorite veterans. The wall includes photos and stories honoring those who have served from World War II to the present. The photos and stories will be collected and preserved in a firm album.
Butt Thornton and Baehr is especially proud of our own veterans Norman L. Gagne, Alfred L. Green, Jr., Carlos G. Martinez, and J. Duke Thornton.
BOBBIE J. COLLINS NAMED TO THE 2015 BOARD OF DIRECTORS FOR THE NEW MEXICO TAXATION SECTION
Congratulations to Bobbie J. Collins who was named to the 2015 Board of Directors for the New Mexico Taxation Section.  She will serve on the board starting in 2015 for a two-year term.  Ms. Collins is currently studying part-time to obtain an LL.M. in Taxation through the University of Denver's Graduate Tax Program.  Her tax practice primarily focuses on advising businesses and individuals of the tax consequences of real estate transactions.  She also represents clients in estate planning matters with tax considerations, and advises non-profit organizations on maintaining 501(c) status.
BUTT THORNTON & BAEHR NAMED U.S. NEWS & WORLD REPORT 2015 "BEST LAW FIRMS"
U.S. News & World Report announced the 2015 "Best Law Firms" rankings on November 3, 2014. Firms included in the 2015 "Best Law Firms" list are recognized for professional excellence with persistently impressive ratings from clients and peers.  Achieving a tiered ranking signals a unique combination of quality law practice and breadth of legal expertise.
The 2015 rankings are based on the highest number of participating firms and highest number of client ballots on record.  To be eligible for a ranking, a firm must have a lawyer listed in The Best Lawyers in America, which recognizes the top 4 percent of practicing attorneys in the US.  Over 17,000 attorneys provided almost 600,000 law firm assessments, and almost 7,500 clients provided more than 40,000 evaluations.
Ranked firms, presented in tiers, are listed on a national and/or metropolitan scale.  Receiving a tier designation reflects the high level of respect a firm has earned among other leading lawyers and clients in the same communities and the same practice areas for their abilities, their professionalism and their integrity.
The 2015 "Best Law Firms" rankings can be seen in their entirety by visiting bestlawfirms.usnews.com.
BUTT THORNTON & BAEHR CELEBRATES HALLOWEEN


Butt Thornton & Baehr celebrated Halloween this year by welcoming trick-or-treaters and hosting a pumpkin carving contest.
SHAWN CUMMINGS, SCOTT STROMBERG, AND STEPHANIE LATIMER COMPETE IN THE 31ST ANNUAL DUKE CITY MARATHON
Congratulations to Shawn Cummings, Scott Stromberg, and Stephanie Latimer who completed the 31st annual Duke City Marathon! The course runs through downtown and is a qualifier for the Boston Marathon. Shawn Cummings and Scott Stromberg participated in and completed the full marathon (26.2 miles). Stephanie Latimer participated in and completed the half marathon (13.1 miles). Stephanie finished in the Top 10 for women.
RECENT APPELLATE OPINIONS BY CARLOS G. MARTINEZ FOR THE NEW MEXICO WORKERS' COMPENSATION ASSOCIATION
In the October 1, 2014, edition of the New Mexico Bar Bulletin, two workers' compensation cases were reported.  The first case is entitled Sandy Allen Jones v. Holiday Inn Express and AIG Claims Service v. ALEA North American Insurance Company and CHUBB Services Corporation.  This was an appeal from a decision by Judge Shanon S. Riley.  This Opinion was issued by the New Mexico Court of Appeals. Judge Michael E. Vigil wrote the Opinion, Judge Linda M. Vanzi and Judge Monica Zamora concurred.  This case involved a dispute between two insurance carriers, AIG Claims Service and ALEA North American Insurance Company.  The Court found that the dispute had no effect on the rights of the injured Worker.  The Worker sustained an on the job injury to his back, which was not in dispute.  Thirteen days prior to the accident, the Employer had changed its workers' compensation carrier from AIG Claims Service (AIG) to ALEA North American Insurance Company (ALEA).  The Employer's assistant manager was apparently unaware of the change and sent notice of the accident to AIG.
(to continue reading the article please click on the link)
"A CALL FOR DETAIL" BY CARLOS G. MARTINEZ FOR THE NEW MEXICO WORKERS' COMPENSATION ASSOCIATION
In a recent discussion with one of my colleagues, I was made aware of the fact that my colleague had to litigate an issue in a case that, in my opinion, had the issue been addressed in an earlier settlement document, there would have been no issue to litigate at this time. When cases are settled or an order is drafted and entered, or when a party prevails at a hearing, in my experience the attorneys are often less than diligent in drafting precise document language in the order submitted to the judge for signature. One attorney who I have dealt with over the years,
(to continue reading please click on the article)
Article-for-WC-Assn-of-NM-Monthyly-Newsletter-00883464x9CA8B
"LEGAL ISSUES INVOLVING PARAMEDICS" BY W. ANN MAGGIORE FOR THE UNIVERSITY OF NEW MEXICO SCHOOL OF MEDICINE PARAMEDIC PROGRAM.
On September 19, 2014 W. Ann Maggiore gave a presentation to the students in the University of New Mexico School of Medicine Paramedic Program.  The four hour presentation, which was attended by over twenty students, discussed the "Legal Issues Involving Paramedics."  Ms. Maggiore serves as a clinical faculty member for the University of New Mexico School of Medicine and is a frequent lecturer.
"BENEFITS FOR LIFE!: NEW MEXICO SUPREME COURT DETERMINES WORKERS MAY RECEIVE UNLIMITED 'TOTAL TEMPORARY DISABILITY' BENEFITS" BY CARLOS G. MARTINEZ FOR THE NEW MEXICO WORKERS' COMPENSATION ASSOCIATION.
On June 5, 2014, the New Mexico Supreme Court issued an opinion in the case of Sherrie Fowler v. Vista Care and American Home Insurance Company, 2014-NMSC-019, 329 P.3d 630.  This was an appeal from a decision by Judge Victor Lopez and, subsequently, the Court of Appeals. My partners, Mr. David Whitham and Ms. Emily Franke, represented the Employer and insurance carrier in this matter.
The issue in this case was whether the 700-week limit for indemnity benefits applied to Temporary Total Disability (TTD) benefits. In this particular case the Worker, Ms. Fowler, had sustained a back injury in the course and scope of her employment and was receiving TTD benefits. She was later determined to have reached Maximum Medical Improvement (MMI) and was paid Permanent Partial Disability (PPD) benefits based on her reaching MMI.
Later, the Worker's medical condition changed and she needed additional surgery and she requested additional TTD benefits. The Employer and the insurance carrier denied the request for additional TTD benefits, based on an argument that there was a 700-week "per injury" limit on disability benefits that the Worker was entitled to.
In his decision at the Workers' Compensation Administration, Judge Lopez concluded that the TTD benefits were not subject to the 700-week durational limit found in NMSA 1978, Section 52-1-42(A) and, therefore, Ms. Fowler could be paid TTD benefits for an indefinite period of time over the course of her lifetime. The Court of Appeals reversed Judge Lopez's decision on this point. See Fowler v. Vista Care and Am. Home Ins. Co., 2013-NMCA-036, ¶¶ 22-23, 298 P.3d 491. However, the Supreme Court, in a unanimous decision authored by Justice Charles Daniels, reversed the Court of Appeals and upheld the decision of Judge Lopez.
The basis of the Supreme Court's affirmance of Judge Lopez's opinion is a strict reading of language contained in Section 52-1-41(A), which states in part: "For total disability, the worker shall receive, during the period of that disability, . . . compensation benefits for the remainder of his life." The Supreme Court confirmed that there are specific limits for PPD benefits, that their decision was not changing that particular limitation, and that their holding only applied to TTD benefits.
Justice Daniels stated:

The legislative history of Section 52-1-41 indicates that the Legislature intended the eligibility for total disability benefits to exist without limit on duration. In 1990 the Legislature amended Section 52-1-41, specifically removing the duration limits that previously applied to total disability compensation benefits. . . Also in 1990 when the Legislature amended Section 52-1-41 to remove the duration limits for total disability benefits from Subsection A, it enacted Section 52-1-25.1 expressly defining "temporary total disability."
Fowler
, 2014-NMSC-019, ¶¶ 18-19. It was Justice Daniels' opinion that the Legislature's removal of the duration limits from Section 52-1-41(A) in the same year that it expressly created "temporary total disability" as a new subsection of the definition for total disability "strongly suggests that the Legislature intended to classify 
both 
temporary total disability benefits and permanent total disability benefits as lifetime benefits." 
Id. 
¶ 20 (emphasis in original).
There was one aspect of Justice Daniels' decision which appeared to me to be an incorrect statement of the law and showed, somewhat, a lack of understanding of how the workers' compensation system works. Justice Daniels stated: "This scheme acknowledges the realistic possibility that some workers may become totally disabled for a period of time, reach MMI or be released for work by their physicians before MMI and return to work, and later face subsequent work-related injuries or find their existing injuries exacerbated, rendering them totally disabled yet again." Fowler, 2014-NMSC-019, ¶ 10. As I am sure you are aware, if, in fact, a worker becomes reinjured after the worker returns to work, this would probably constitute a new injury, which means a new 700-week period would start all over again. I could not tell from reading that particular section of the opinion whether that fact was clear to Justice Daniels, although it probably would not have changed his opinion in this case, even if it were.
The significance of this case is that it may encourage employers and insurers to try to settle workers' compensation cases under the Workers' Compensation Act's lump sum settlement provisions and to make sure there is language contained in the settlement pleadings that all "past, present and future claims for weekly indemnity benefits are waived, even if the worker's condition worsens or changes in the future." If a worker is being paid out his or her benefits on a periodic basis, which they are entitled to receive under the law, there is a risk that a subsequent, non-new-injury exacerbation or deterioration could result in additional treatment or even surgery, re-entitling them to TTD until reaching MMI again. Under Fowler, this could result in payment of additional TTD benefits well beyond 700 weeks of benefits for the exacerbated or deteriorated injury.
Fortunately, there are few cases in which a worker presents with a situation similar to that of Ms. Fowler. Additionally, this should not be an issue in cases of settlement, assuming that proper language forever closing out all indemnity benefits is included in the compensation order approving the settlement.
"LEGAL IMPLICATIONS OF THE PRACTICE OF PHYSICAL THERAPY AND PROPER DOCUMENTATION"
On September 8, 2014 W. Ann Maggiore and James Johansen gave a presentation to the third year students at the University of New Mexico School of Physical Therapy.  The presentation, which was attended by over thirty students, discussed the "Legal Implications of the Practice of Physical Therapy and Proper Documentation."  This presentation marks the second year in which Ms. Maggiore and Mr. Johansen have been invited to speak to the students at the University of New Mexico School of Physical Therapy.
ALL AMERICAN GIRLS PROFESSIONAL BASEBALL LEAGUE PLAYERS ASSOCIATION
On July 22, 2014 S. Carolyn Ramos was presented with a Certification of Appreciation from the All American Girls Professional Baseball League Players Association.  Ms. Ramos serves as general counsel for both the All American Girls Professional Baseball League Players Association.
WORKERS' COMPENSATION LAW AND PRACTICE CLE HELD IN SANTA FE, NEW MEXICO
On September 9, 2014 Neysa Lujan and Tony Couture presented at the Workers' Compensation Law and Practice CLE held in Santa Fe, New Mexico.  Mr. Couture's presentation discussed the General Principles of Workers' Compensation in the Course of and Arising out of Employment.
Ms. Lujan's presentation focused on contemporaneous issues in New Mexico's Workers' Compensation Law including rule changes, uninsured employers' fund, and changes at the Workers' Compensation Administration.  The CLE was attended by attorneys from around the state specializing in Workers' Compensation law and representatives from the Albuquerque Bernalillo County Water Utility Authority and Santa Fe Public Schools.
JULIO C. ROMERO PASSES THE NEW MEXICO BAR EXAM
Congratulations to Julio C. Romero who passed the New Mexico Bar Exam on September 10, 2014!  Mr. Romero is presently clerking for Justice Edward L. Chávez of the New Mexico Supreme Court.  He clerked for Butt Thornton and Baehr in the summer of 2012 and 2013. Mr. Romero will return to Butt Thornton and Baehr as an associate in the fall of 2015.
"POWER LESSONS FROM THE FEMALE LITIGATOR" CONTINUING LEGAL EDUCATION (CLE) SEMINAR HOSTED BY THE NEW MEXICO DEFENSE LAWYERS ASSOCIATION
S. Carolyn Ramos, Esq. chaired the fifth annual "Power Lessons from the Female Litigator" Continuing Legal Education (CLE) seminar hosted by the New Mexico Defense Lawyers Association on Friday, August 15, 2014 in Albuquerque, New Mexico.  The seminar entitled, "This is Your Life! Authenticity in the Age of Appearances," was a tremendous success and attended by over seventy New Mexico attorneys and judges.  The program focuses on enhancing the skills of all female attorneys as they work to represent their clients, advance in their firms, agencies, offices and beyond.
Among the program highlights, the Honorable Karen Ballard Molzen, Chief Magistrate Judge, United States District Court, Agnes Fuentevilla Padilla, Esq. and Maureen A. Sanders, Esq. of Sanders & Westbrook, PC held a live mediation demonstrating how to value and mediate an employment case.  The seminar also featured a judges' panel discussing the implications of social media in the court room including the Honorable C. Shannon Bacon, Second Judicial District Court, Albuquerque and the Honorable Sarah M. Singleton, First Judicial District Court, Santa Fe, moderated by Quiana A. Salazar-King, Esq.
ZERO DAMAGES IN LARGE CONSTRUCTION DEFECT CASE
Congratulations to Candace Cavanaugh and Matthew Jones who received a judgment for zero damages in the First Judicial District Court, Tierra Amarilla in a large construction defect case.